Express Menu - Documentation
Defining a Menu
The Express Menu reads a menu definition from a folder named Menu. This folder is located in the folder where the program is installed. In a typical installation on an English Windows installation this folder is located in C:\Program Files\Bullzip\Express Menu\Menu.
A menu definition is a collection of shortcuts and folders. Shortcuts defines the menu items and folders define the submenus. To construct a menu you simply copy or create a collection of shotcuts in the menu folder.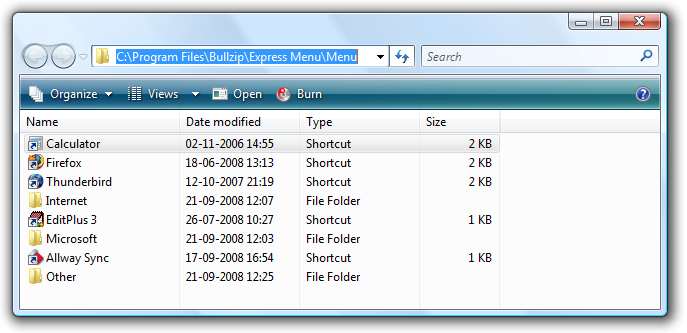 When your menu is complete you can right click the Express Menu icon in the system tray and select Reload from the menu that pops up. Reload will force the Express Menu to scan the menu folder and update the menu structure. Now you can press the Windows+Z key and see the new menu.